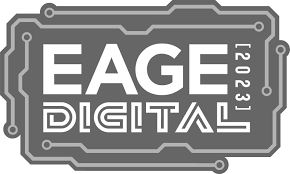 Ikon Science is pleased to announce that we will be exhibiting and speaking at EAGE Digital at the ExCeL, London on the 20th - 22nd of March 2023.
You can find our booth next to the Catering and Coffee area at stand 420.
Join us on our stand for our 'happy hour' in partnership with AWS on Monday evening from 5:30pm - 7:30pm for beer, wine, softdrink and tasty snacks.
After the 'happy hour' closes we're hosting our Evening Reception with AWS at The Oiler Bar (a short walk from the ExCeL) from 7:30pm till 11pm.

Our Speakers
Christopher Hanton
Director, Digital Transformation Solutions

Productization of Digital Transformation in the Subsurface
Monday 4:35 PM - 4:55 PM, Innovation Hub


Delivering Business Value Through OSDUTM – Accelerating Adoption With Transitional Architecture
Tuesday 12:10 PM - 12:30 PM, Main Stage

Roundtable Discussion - From Pilot to Broad–Scale Rollout
Tuesday 14:50 - 15:30

Dr. James Tomlinson
VP of Data Solutions

Data Foundations: Unlocking the Potential of Subsurface Machine Learning Workflows
Monday 4:55 PM - 5:15 PM, Innovation Hub


Rosalena Filograsso
Geoscientist

Machine Learning Application For Joint Rock-Physics model optimization, facies classification and compaction modeling: North Sea Example
Monday 4:35 PM - 4:55 PM, Main Stage
Meet the Ikon Team at EAGE Digital
If you would like to discuss your challenges feel free to book some time to meet with our experts and discover our industry leading solutions.
William Slade
Commercial Director, Digital Transformation Solutions

With experience working with teams across the industry, Will understands the commercial and practical challenges facing your teams and the solutions that will overcome them.

Dr. James Tomlinson
VP of Data Solutions

Having worked with industry data for years, James brings a wealth of experience in how to best utilze and implement solutions to maximze knowledge within your business.

Chris Hanton
Director, Digital Transformation Solutions

Chris is an industry expert in best practices for overcoming subsurface data management challenges and implementing efficiencies across your organizations.

Neil Bonwick
Geoscientist


Neil has extensive data loading experience as well as supporting Curate customers in their digital transformation efforts.